ZBIGNIEW KAJA - POSTERS
Retrospective, 1958 - 1980
Polish Poster Gallery, BUW May 5 - 31, 2010.


Posters exhibition accompanying 22nd International Poster Biennial in Warsaw
University of Warsaw Library, ul. Dobra 55/56, 00-312 Warszawa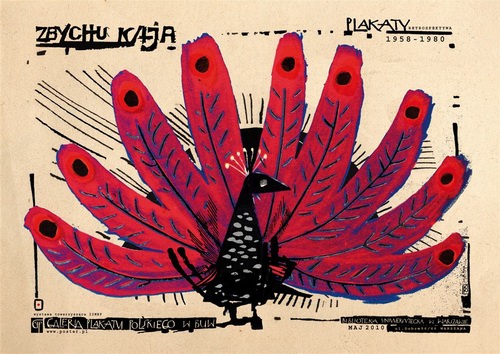 The Exhibition presents 40 posters selected (from over 380) by Zbigniew Kaja's son Ryszard Kaja - who also designed a poster advertising this event (printed courtesy of Krzysztof Dydo Poster Gallery).
Życie Paryskie
1960

Straszny dwór
1976

Roxy
1971

Cyrano de Bergerac
1957
Ludowa Polsko, piękna, nowa

Osioł i cień
1959

I Ogólnopolska wystawa plakatu
1953
Nigdy więcej

Poznan, Domki Budnikow

International Fair
Poznan 1961

Wielkopolski festiwal
kulkturalny, 1961
Machiavelli
1957

Konsul
1961

Hamlet
1950

Fajerwerk
1959
Romeo i Julia
1960

Otello
1962

Jednodniowi milionerzy
z J. Pałką, 1951

Myszka
22 Lipca
1960

Grunwald
1960

Festiwal Mlodej Poezji
1954

Jestem patriotą
- przoduję w pracy
1973
Bo w świecie...
1955

10 Lat
1954

Ślepy
1954
Noc w Wenecji
1974

Konrad Wallenrod
1957

Cyganeria
1966

J. S. Bach
1967
Wiklina - wystawa
1977

Architektura wnętrz
i formy przemysłowe
1955

55 Rocznica Powstania
Wielkopolskiego, 1975

Polen wsp. G. Wyszomirska
1964
Diabeł
1959

5 Ogolnopolski festiwal
poezji im. Gałczyńskiego
1968

Dama od Maxima
1978

Człowiek z La Manchy
1968
Noc Kupały
1976


ZOO Warszawa
1954